Description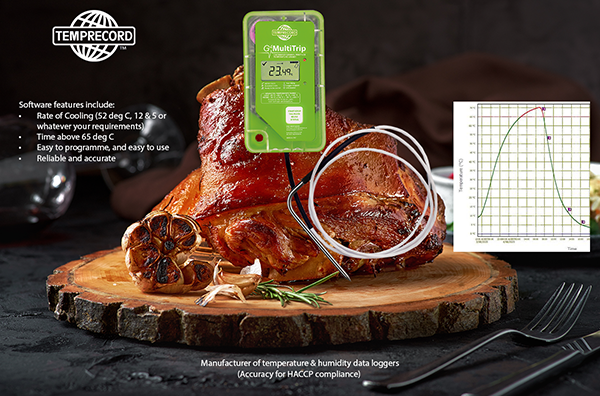 G4 Multitrip temperature bent probe logger with calibrated accuracy
This logger requires a USB Reader Interface to program and download data in the free TRW 6.3 software.  
Proven accurate and reliable Temprecord performance, when product integrity is critical!
NB! Please keep logger case out of the environment if temperature is outside of the temperature range: -25 ˚C to +60 ˚C or -13 ˚F to +140 ˚F
Product description:
Battery type: Manganese Dioxide Lithium (3.0V)
Case dimensions: L 129mm x W 73.5mm x 14mm or 51/8 x 27/8 x 5/8 inches
Case protection: IP67 or NEMA 6. Fully welded FDA approved food grade casing
Recording duration: 2.2 hrs up to 2 years
Sample capacity: Approx. 7,935 samples minimum
Sample period: Programmable between 1 second and 18 hours
Temperature range with standard probe: -50 ˚C to +110 ˚C or -58 ˚F to +230 ˚F
Weight: 104g or 3.6oz
System requirements:
TRW 6.3 Software must be used to operate all G4 display data loggers:
• Download software from www.temprecord.com
• Temprecord USB Reader interface is required
• Compatible with Windows 7, 8 or 10 (unfortunately software not available for Apple Mac)
Warranty period:
12 months on data logger and 2 years on battery from date of purchase. Warranty void if traces of water found within logger case.

Applications for the G4 Multitrip temperature bent probe logger include monitoring of critical temperature-sensitive products during:

Research,
Scientific testing,
Production / processing,
Storage
Transit
For products such as:
Food,
Medical,
Pharmaceuticals,
Research products
Equipment
Process/manufacture environments

Calibrated and corrected at 3-Points to ISO / IEC 17025 Calibration Laboratory Standard. Traceable Calibration Certificate is included and can be downloaded online by inputting the serial number on the back label of the logger. This link will redirect to another website to download the G4 Multitrip temperature bent probe logger calibration certificate. Calibration Certificate Search
For more information download the PDF product brochure - G4-Multitrip-temperature-bent-probe-logger.pdf

Contact Temprecord International Ltd for any questions or more information.  We reply within 24 hours Monday to Friday (New Zealand standard time GMT +12)  Alternatively please view our distributors page for a knowledgeable Temprecord distributor in your country